| | | | |
| --- | --- | --- | --- |
| | | | |
| | | | Hotels and Hostels in Amsterdam |
| | | | |

| | | | | | |
| --- | --- | --- | --- | --- | --- |
| | | | | | |

You are logged in as guest

Pro cannabis

About the Weed Pass that Never Was

Last updated 21-December-2012

This article contains the opinions and views of locals, tourists, and coffeeshop industry staff regarding the story of the weed pass.

These opinions were collected and this article was written at the introduction of the weed pass system.

Any contradictions in viewpoints could be the result of the complicated and confusing political system, and some information may be taken out of context.

Nevertheless, Hotelrunners were impressed by how well-informed and knowledgeable the people against the weed pass proved to be.

As of January 1, 2013, tourists from all over the world might no longer be allowed to buy cannabis at coffeeshops in Amsterdam. The Netherlands have always had a reputation for being free, open-minded, tolerant and accepting. Not anymore? Dutch Minister of Safety and Justice Ivo Opstelten and his new right-wing Christian coalition government were implementing a government-issued "weed pass" to ban all tourists from the coffeeshops.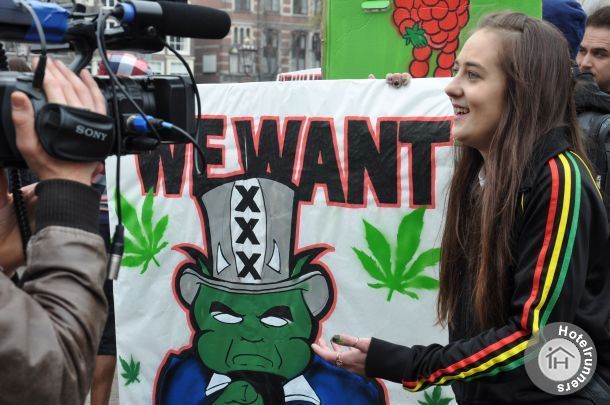 The new generation
In fact most of the people who support these Christian parties have no tolerance for soft drugs and don't want the coffeeshops open even as private clubs. They believe by closing the coffeeshops, along with the red light windows, they would improve public health and safety. One might ask: If that were the case, shouldn't alcohol be banned as well?
No More Tourists?

There seems to have always been a love/hate relationship between the Dutch and its tourists.

Tourists from all over the world come to the Netherlands to experiment with marijuana and other soft drugs.

Sounds of their laughter and yelling can be heard echoing through the streets of small towns and cities throughout the country. No doubt this could get quite irritating to locals living in these areas.

A city like Maastricht for example, being close to both the Belgian and German borders, is visited out of convenience and tends to be used as a drugstore drive-thru.


Rappin' for the cause
The coffeeshops there started their own partial ban, selling marijuana to only the Dutch, Germans, and Belgians to try and show the government they could take care of the problem themselves. Maastricht city officials say the ban has been successful while other reports say there has been a rise in street crime and violence. Successful or not, the official ban in the south of the country began January 1, 2012, while the rest of the country has until next year.

Enjoying his freedom

The "Weed Pass"

To enter or to buy cannabis at a coffeeshop in the Netherlands you will have to be either a citizen or a legal resident carrying a government-issued "weed pass."

There are more than 200 coffeshops left in Amsterdam and each one will be allowed to have 2000 club members. Are all the coffeeshops in the Netherlands, especially the smaller, less commercial ones, able to fill 2000 club memberships with just Dutch citizens and local residents?

It is more than likely a lot of these coffeeshops will go out of business.
In addition, January 1, 2014, coffeeshops within 350 meters of a school will have to close to prevent children from getting access to the drug, even though a study in Rotterdam, commissioned by the city, disproved this theory.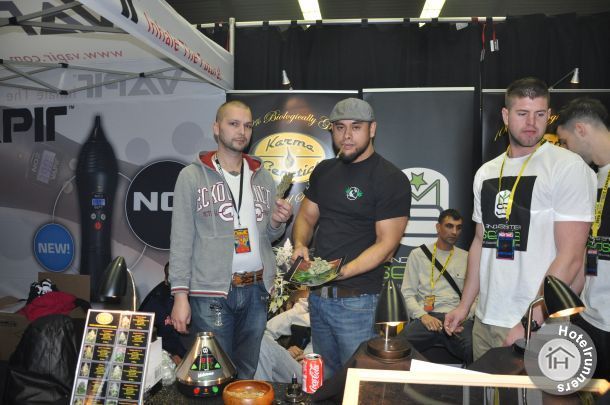 Karma Genetics "Biker Kush" and Lady Sativa Genetics
The government is also considering classifying certain stronger strains of marijuana as hard drugs. Any marijuana having more than 15% THC would be considered too strong and would be banned under the Opium Act, putting it in the same class as heroin and cocaine. Today, a lot of commercial marijuana strains are more than 15%. So even if you are a club member, the marijuana you'll have access to will be mediocre at best -- much milder than what is available in the shops now.
How does this affect Amsterdam?

City councils across the country feel every city or town should have the right to have or deny the "weed pass" system depending on how it will affect its own situation.

Amsterdam brings in billions in tourist revenue every year. How much of that is related to the coffeeshops? We are certainly going to find out. Lots of people are worried and don't want to believe that its actually going to happen.

What works on the Belgian and German borders may not work in cities like Amsterdam, Rotterdam and The Hague. Amsterdam's City Council is against the ban. In fact none of the big cities want to implement the tourist ban.


Barney's Farm "Liberty Haze"

Night clubs, hotels, booking agencies, bars, restaurants, taxi services, public transportation, prostitutes in the Red Light District and even the museums will probably all be affected. The government will also lose out on the tax revenue, and a major concern is that it's going to hand a very profitable industry over to an eagerly awaiting black market.

Devil's Harvest "T-light"

Just because the coffeeshops are banned to tourists doesn't mean the tourists are going to stop using marijuana.

The black market may also flourish from business from the locals themselves. The other day at a hotel in the East of Amsterdam I ran into a group of younger Dutch citizens, almost all of whom used cannabis.

When asked if they were going to apply for the new "weed pass" not one of them said he would allow his name to be on a government list as a registered drug user.

The Dutch originally decriminalized soft drugs because the government considered it a matter of health rather than a criminal problem.

In working with the coffeeshops the government has been able to control and regulate the sales of soft drugs to the public. The fear now is that locals and tourists alike will turn to seedy street dealers who also sell harder, more dangerous drugs, risking violence, police arrest and the use of something that could be contaminated. The courts and jails could overflow with people who at one time were considered normal citizens and vacationers.

Keeping the vapor flowing

The United States "War on Drugs"

More than 858,000 people in the United States were arrested in 2009 for marijuana violations. More than half of all drug arrests in the United States were due to this infamous weed. According to The Sentencing Project, a group that analyzes sentencing for various crimes, there are about 27,900 people in state and federal prison serving a sentence for which a marijuana violation is the main or most serious offense.

This is costing the American government $600 million a year. Up until now the Dutch government found a safe and stable way of preventing this.

A way that could also be profitable... to almost everyone... instead of being a drain on society. It also clearly drew the line between the worlds of soft and hard drugs.

Most people who frequent the coffeeshops stick to using soft drugs and don't feel the need to move to anything harder. Most of them don't even condone the use of hard drugs. Some people fear the Minister of Safety and Justice has just ushered in the drug problems that plague almost every society in the world.


Roor's EUR 100,000 smoking gun

Because of this new wave of intolerance more and more people say they won't be coming back to Amsterdam. Where will they go? Which country will pick up the reputation that has made the Netherlands so famous and in doing so pick up the enormous paycheck that goes along with providing that kind of freedom?


The Cali Connection

California Dreaming

California, along with several other states, provides people with safe medicinal marijuana along with several other cannabis related products.

Although there are coffeeshops in Amsterdam, such as 'The Grey Area' and 'The Green Place' that are more like herbal consultants than dealers, the dispensaries in California are also very professional and the people working there dress and act like pharmacists.

California even has its own Cannabis Cup, just like the one the Dutch police raided here in Amsterdam last November and in California alone, Cannabis Clubs or "dispensaries" already outnumber the coffeeshops in the Netherlands.

LA's numerous Cannabis Clubs were even mentioned on an episode of "The Cleveland Show", one of Seth Macfarlane's animated TV shows.
California Medicinal "Norcal Genetics"
But California, and any state that attempts to decriminalize the use of cannabis, must deal with the fact that no matter what laws the states enact, the federal government still classifies cannabis, along with heroin, as a Schedule I drug – dangerous with no medical value.

In Los Angeles, the City Council repealed a ban on medical marijuana dispensaries after 49,000 Los Angeles voters signed a petition to force either repeal or a vote, and the City of Oakland (already nicknamed Oaksterdam -- it even has its own Bulldog dispensary) is suing the federal government after a U.S. Attorney filed a civil forfeiture claim to seize one of the city's more profitable dispensaries, reportedly taking in an impressive $20 million in annual sales and paying a $1 million tax bill.

With so much money at stake, California will almost certainly at some point revisit Prop.19, its failed attempt at legalization two years ago, especially if voters in Washington, Oregon and Colorado approve legalization in November.


Hitman Glass

It is ironic that the U.S. seems to be moving toward a more rational view of cannabis while the Netherlands is tightening its policies. It may take years – perhaps even decades – but the U.S. is moving in the direction of decriminalization. Could one of the many beach towns in the U.S. someday replace Amsterdam as the world's mecca of pot tourism?
The only requirement needed to add your comment is a Hotelrunners guest account. The comments are opinions of those who submitted them and do not express the opinions of Hotelrunners b.v.
To add your comments you need a Hotelrunners guest account. If you already have a Hotelrunners guest account and you would like to add a comment, click log in. If you do not have a Hotelrunners guest account and would like to open one now, click open Hotelrunners guest account. You can use the same account to easily make reservations through www.hotelrunners.com in the future.

Hotelrunners B.V. is based in Amsterdam, the Netherlands.
| About Us | Contact Us | Terms and Conditions | Privacy Policy |



Copyright © 2023 Hotelrunners B.V. All rights reserved.